Regular price
Sale price
€15,00 EUR
Unit price
per
Sale
Sold out
This poster is a faithful print of my original watercolor that captures the essence of the fall season marked by withdrawal and introspection in order to prepare for Fall. It represents the characteristic elements of the autumn season with warm colors, dried leaves and the captivating smell of the woods, comforting hot drinks and scented candles.
The tender and delicate illustrations invite contemplation and awaken children's imagination. The meticulous details of the watercolor transport viewers into an autumnal world imbued with the warmth of moments shared with family .
This poster is perfect for personalizing your interior during this season of transition and renewal or for adding a touch of cocooning to the decoration of the children's room . It evokes a warm, nostalgic and soothing atmosphere , recalling the traditions and wonders of autumn .
Hang this poster in the living room, near the fireplace or in the children's bedroom to create a relaxing and comforting atmosphere . Let yourself be carried away by the slow and deep withdrawal atmosphere of autumn and let the magic of this watercolor envelop your interior, awakening childhood memories and inviting introspection .
This poster is also an ideal gift for your loved ones , whether it's a special occasion or simply to please. Share the sweetness of autumn with those you love by offering this unique and evocative illustration, which will transport everyone into a world of calm and autumnal cocooning.
Qualité de l'impression

RENDU DES TEXTURES : Les impressions de très haute qualité, à la texture matte, capturent et préservent les détails des coups de pinceau, des superpositions de couleurs et des variations de tonalité. Cela permet de recréer l'aspect artistique et d'apprécier la texture unique et les effets de transparence de l'aquarelle.
DURABILITE : La qualité du papier garantit que l'œuvre imprimée conserve sa qualité au fil du temps, sans se dégrader vous permettant ainsi de profiter de votre œuvre à long terme.
COULEURS : Les impressions de haute qualité préservent la richesse et la vivacité des couleurs de l'aquarelle originale. Grâce à des techniques d'impression avancées et à l'utilisation de pigments de qualité, les détails subtils, les nuances et les nuances délicates de l'œuvre d'art sont reproduits avec précision.
Livraison et retours

EXPÉDITION : Bénéficiez d'une livraison GRATUITE à partir de 60 € d'achat.

DISPONIBILITÉ : Les œuvres d'art de Django&Coco sont imprimées sur commande, juste pour vous !

PAPIER : Imprimé sur du papier d'art mat de haute qualité.

🎁 EST-CE UN CADEAU ? Une note de cadeau personnalisée gratuite est incluse dans chaque commande. Laissez votre message personnalisé au destinataire dans la section "note de commande" de votre panier.

RETOURS : Toutes nos œuvres d'art sont imprimées sur mesure et fabriquées pour vous, par conséquent, nous ne pouvons pas accepter de retours ou d'échanges, sauf en cas de dommages subis lors de l'expédition. Nous voulons que vous soyez satisfait à 100% de votre œuvre d'art, alors n'hésitez pas à nous contacter si vous avez des inquiétudes ou des questions. En savoir plus.
Personnalisation

Vous pouvez personnaliser votre affiche : Prénom, date de naissance, citation...

J'essayerai de faire au mieux pour le placement du texte. La personnalisation peut prendre jusqu'à deux jours supplémentaires.

"Personnalisation offerte à partir de 15€ d'achat"
Où trouver des cadres ?

Parmi les enseignes où l'on peut trouver des cadres de taille normale à des prix abordables il y a IKEA, Leroy Merlin, HEMA.

Plus de détails dans cette page.
Partager
View full details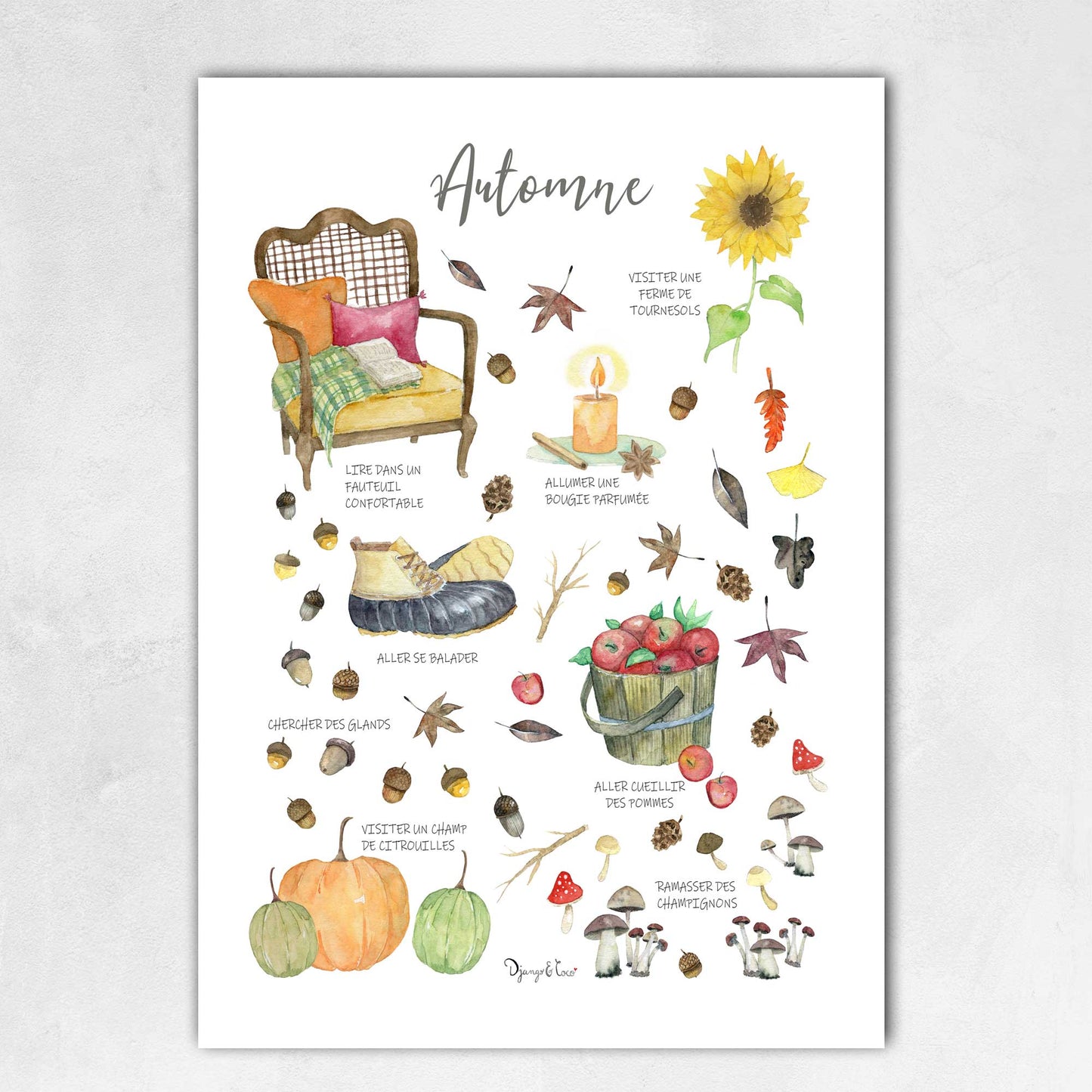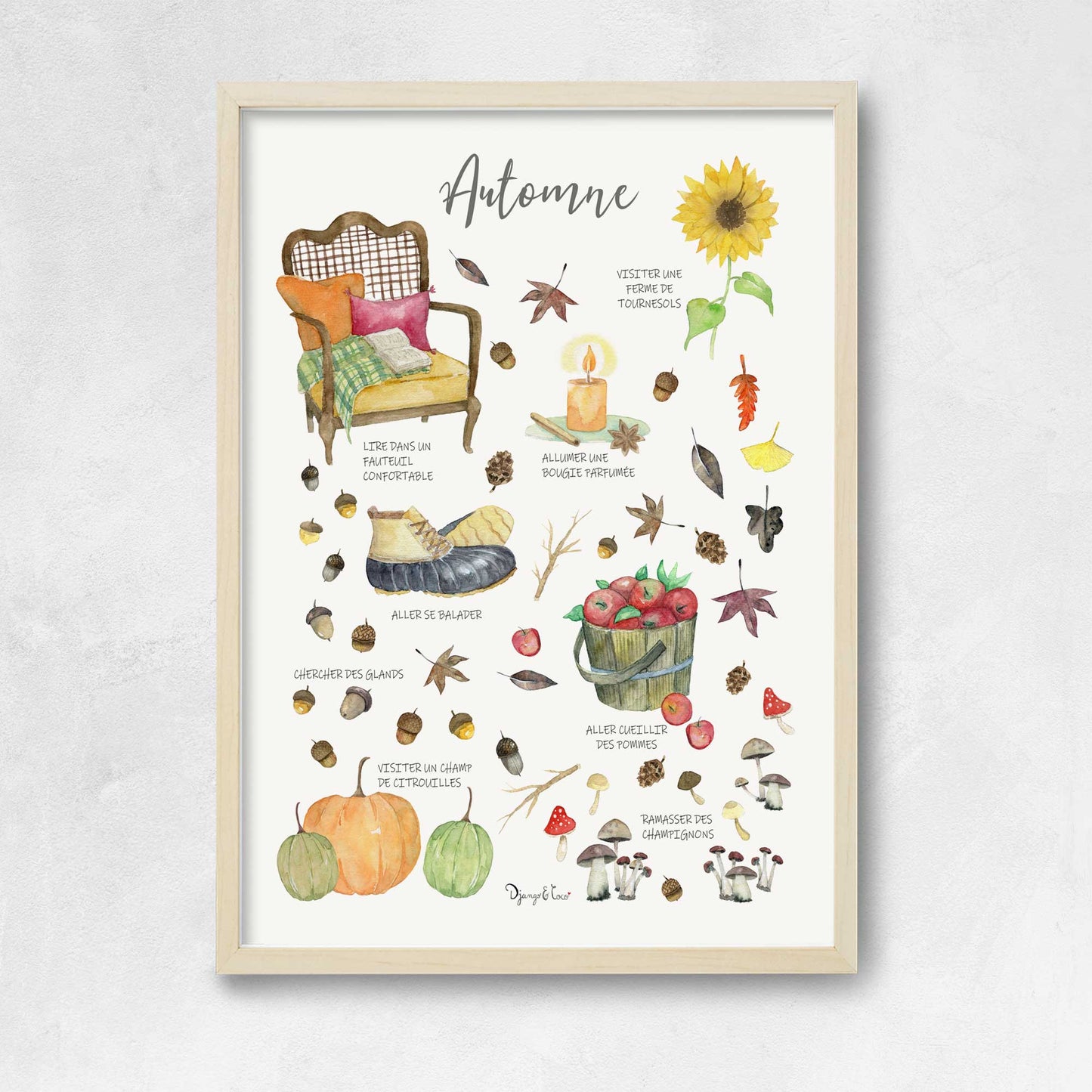 @djangoandcocoart
Nous adorons découvrir nos œuvres d'art chez vous : Suivez @djangoandcocoart et identifiez-nous sur vos photos !
Galerie clients

Nos œuvres d'art chez nos clients ♥️

VOIR

Formats d'impression et affichage

Dimensions et idées d'agencement des oeuvres d'art.

DÉCOUVRIR

Art en téléchargement

Tout savoir sur l'impression d'œuvres d'art numériques

EN SAVOIR PLUS